About Fr. Joe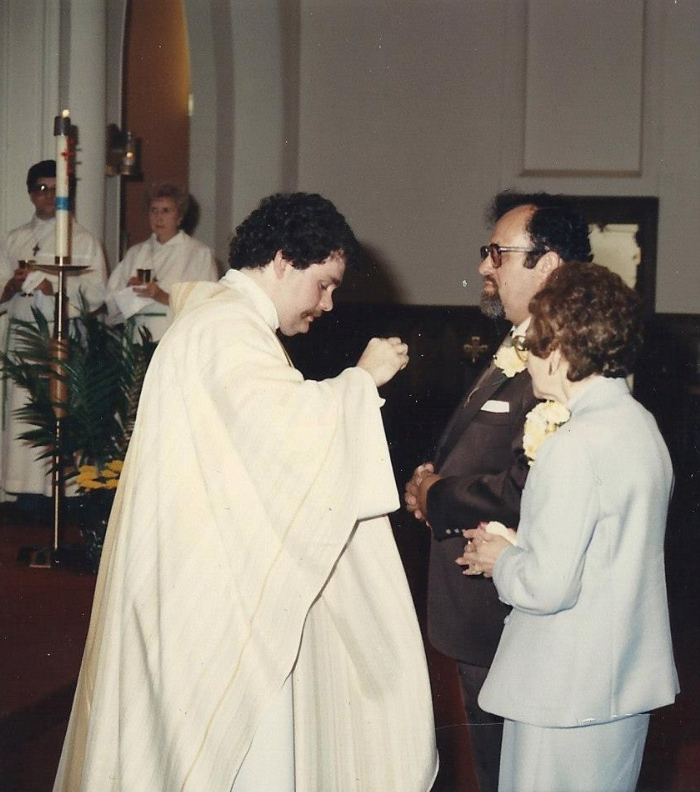 A native of Buffalo, NY, Joseph F. Moreno Jr. was born to Joseph Sr., a former U.S. Marine and Concetta, a first generation Italian along with his twin sister, Susan, in 1958. The boy who would grow up to be "Fr. Joe" started on his path with formative education at Holy Spirit School. He and his family were actively involved in this, their neighborhood parish; and he would later be ordained here on April 25, 1986. From Holy Spirit School, he went to Diocesan Prep, Bishop Fallon School and Cardinal O'Hara for his junior and senior high school years. He attended Wadham's Hall Seminary for his college career and upon graduation entered into Christ the King Seminary followed by St. Elizabeth Ann Seton and Boston College. He was proud to have obtained his Master's Degree from B.C. in 1982.
During his time at Christ the King Seminary, he served at St. Elizabeth Ann Seton in Dunkirk and at St. Aloysius in Springville, NY. From there, he was stationed at St. Mary's of Swormville before beginning a ten year assignment at St. Margaret's, where he was actively involved in the parish school and a horde of other clubs, events, and activities. From the onset, he was a man of the people. His generosity, time, energy and compassion knew no bounds. Tales of him financing First Communion celebrations, school tuition, fundraisers for ailing or deceased members of the Buffalo Police or Fire Departments, and literally giving the shoes off of his feet are little known facts, because while his personality was larger than life, he helped those in need quietly.
The ability to be chaplain of the Buffalo Police Department was his greatest joy. Extending his service to the State Police, Transit Police, Fire Department, FEMA, CIA and FBI, Fr. Moreno's service to the community never wavered. Be it through his years of devotion at St. Margaret's Parish and School, his work with the Mother's Club, bingo nights, the Italian Heritage Festival or so many more programs, Fr. Joe's love and kindness was felt to all he came in contact with. He was often serving funeral masses for those less fortunate at no charge, believing all had the right to a proper send off. His truest joys were his ministries to the Buffalo Police and Millard Fillmore Suburban Hospital and St. Francis Nursing Home.
The very day after September 11, 2001, Fr. Joe attended to those at Ground Zero: victims, families, and friends. He ministered to them for 10 days and his invaluable contribution was commended by President Bush, Governor Pataki, the FBI, CIA and FEMA. He returned to Manhattan every year on the anniversary of the attacks and was proud to have served among the other heroes of the day.
His accolades are many, though he never kept track, and included the Man of the Year Award in 1996, the Medal of Honor from Governor Pataki, and the E.H. Butler Award in 2011.
His last assignment to St. Lawrence Church offered Father a chance to serve a great community and his work with the members of the Parish, the Food Pantry and Clinic humbled him and gave him boundless joy and a desire to do even more. Fr. Joe also served generously and loyally to St. Mary's in Cattaraugus County, a place that gave him immense peace and happiness.
He was a man of great popularity: gregarious, boisterous, sometimes irreverent, but always faithful, giving, and loving. When he was taken from this earth in 2012, the loss was widely felt and the void will never be filled.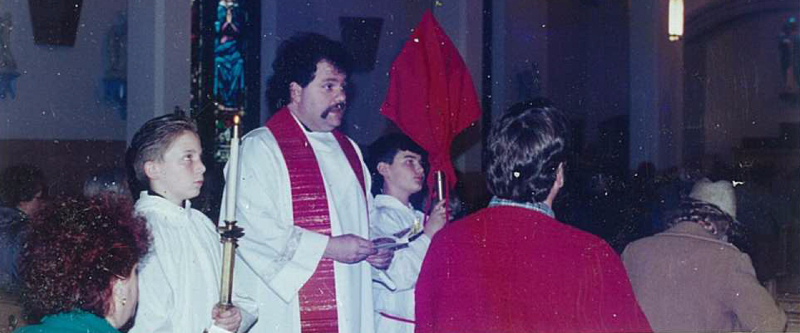 Donations
Established by Fr. Joe's family in his honor, the Fr. Joe Moreno Memorial Foundation strives to carry on the tireless good works of the late Fr. Joseph F. Moreno. With your help, we will continue to serve our community and keep the legacy of Joe Moreno alive.
Fr. Joseph Moreno was found dead in his rectory in 2012 as he was about to blow the whistle on his Diocese. His life and good works were cut short as he was silenced for what he was about to expose. Church Militant traveled to Buffalo to investigate his death that was immediately ruled a suicide. With the assistance of renown Forensic Scientist, Mr. Michael Archer, the truth was revealed. This was not a suicide but a homicide. Click to view the documentary Death of a Whistleblower Priest.